Shrien Dewani's family denounce honeymoon murder 'smears'
Relatives of Shrien Diwani, the millionaire businessman accused of having his wife Anni killed in a fake carjacking, have hired Max Clifford to help clear his name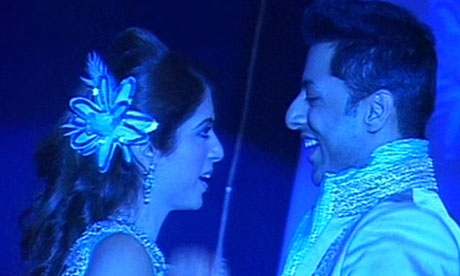 The family of a millionaire accused of plotting to murder his wife on honeymoon are launching a counter-offensive today to clear his name after what they believe is a smear campaign by the South African authorities.
Max Clifford, the publicity agent, is orchestrating the strategy to defend the reputation of Shrien Dewani, a 30-year-old businessman from Bristol, who is accused of paying hitmen to kill his bride, Anni, in a staged carjacking near Cape Town.
Dewani's family is releasing a video of the couple's first dance at their wedding in Mumbai last month, two weeks before Anni, who was 28 and from Sweden, was murdered. The footage shows the newlyweds embracing and smiling fondly during the song, Pehla Nasha, which means "my first true love".
Its release follows allegations that on their honeymoon Dewani masterminded the killing of his wife in Gugulethu, a notorious South African township. Several suspects have alleged that Dewani paid hitmen. However, a close family member said there had been so many lies issued by the South African authorities since Anni's murder on 13 November that it was absurd her husband should now stand trial.
"There have been so many untruths it's been unbearable," the relative said. "We should be mourning, yet we are having to fight these smears."
He was speaking the day after South African police commissioner Bheki Cele – who has branded Dewani a "monkey", prompting accusations of racial undertones – expressed his belief that the state will succeed in having him extradited. The family say no official extradition request has been served and that South African authorities have shunned offers of co-operation from them.
New details of the couple's relationship emerged yesterday, including that Dewani is carrying an Indian Barbie doll he bought Anni as a gift everywhere he goes. "Shrien clings on to this doll as one of the last memories of Anni. He used to refer to her as 'his Barbie' as she, like the doll, used to love dressing up," the relative said.
He said the couple were deeply in love and reiterated the family's explanation for choosing
South Africa
as a honeymoon destination: simply that "S" and "A" were the couple's initials.
The family are also keen to deny several allegations relating to the murder, among them claims that the crime was financially motivated because Dewani had recent cashflow difficulties.
"There is no motive," the relative said. "There is no life policy, there is no will, there is no financial motive. The civil marriage hasn't even happened yet because the plan was to go to Sweden in March for the civil marriage, an opportunity for the friends and family to have another celebration, plus it would coincide with Anni's birthday."
He added that the prosecution case centred on a sequence of events that meant Dewani would have had to arrange a hit with a stranger 25 minutes after landing at Cape Town. "He had made no bookings with taxi drivers before he landed. He pushed the trolleys out and approached all three drivers saying he wanted to go to the Cape Grace hotel."
The relative cited local reporters who tried to mimic the planned hit but were told it would take two weeks to organise and they would have to pay up front.
"It is alleged that Shrien organised this in 25 minutes on interest-free credit and also managed a discount."
The family also question how the taxi driver had pleaded penury yet found the funds for a private lawyer. "He gave two sworn affidavits to the police saying this was a normal hijacking then later gave a different account after appointing a privately-funded lawyer to negotiate a plea bargain," said the relative.
South African police believe Anni may have been shot accidentally as her abductors argued over whether to rape her. They say the ballistics report concluded that the angle at which a single bullet entered her neck suggested the fatal shot was not fired deliberately.
The lack of an "execution wound" is, according to Dewani's supporters, compelling proof that there was no organised hit.
Cape Town detectives have also investigated whether Dewani, who remains on £250,000 bail, was involved in the 2007 murder of a respected doctor, Pox Raghavjee, in King William's Town, 650 miles from Cape Town.
At the time, police ruled out robbery as a motive because neither his car nor valuables were taken.
However, Dewani's family say he had never met Raghavjee and that his passport proves he had never been to South Africa before.
"Anni and Shrien knew nothing about South Africa, Gugulethu meant nothing, the township meant nothing, it's like you've never been to the UK before and someone said let's go to Brixton."
The family deny suggestions another woman was involved and also claims that Dewani was gay. Reports last week claimed that a South African male prostitute had come forward to allege he had regularly paid Dewani for sex.